4th INTERNATIONAL CONFERENCE ON COMPLEXITY AND POLICY STUDIES
For the schedule of the CAPS 2020 Conference, please click here.
The CAPS 2020 Call for Papers is reproduced below.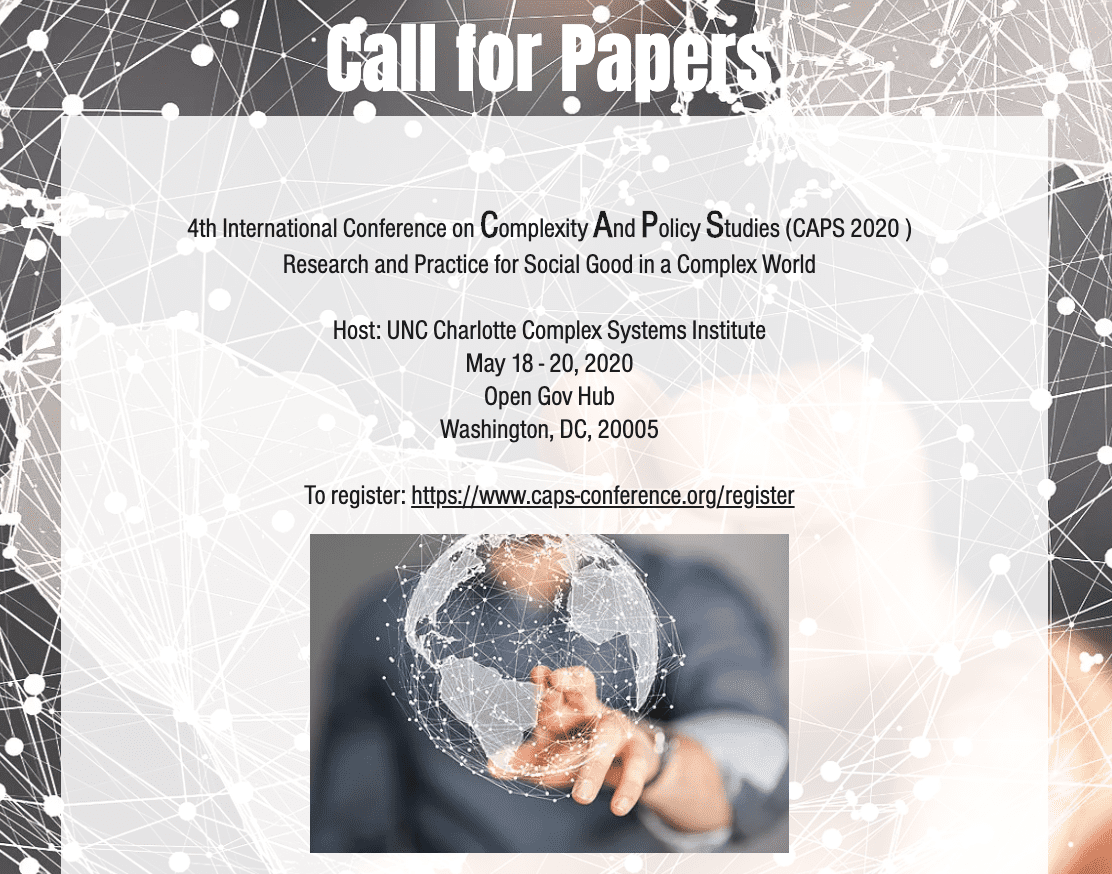 CAPS 2020 is the 4th International Conference on Complexity and Policy Studies. The single track cross-disciplinary conference is organized by the Complex Systems Institute of the University of North Carolina, Charlotte. It is a cross-disciplinary conference that brings together researchers and practitioners to explore the application of insights from the study of complex systems to public policy with a special emphasis on social good. The conference gives practitioners and researchers the opportunity to learn from each other, explore collaborations, and connect with like-minded people.​
PAPER AND CASE STUDY SUBMISSIONS
The conference accepts two kinds of submissions at the intersection of complex systems studies and public policy:
academic papers (full papers in pdf format of roughly 5000 words) that either

present original research (theoretical or field) or
describe and analyze real-world cases or
reflect on the current state of research

project summaries by practitioners (short summaries in pdf format of roughly 500 words) that

outline a project where complex systems approaches were successfully used or
outline a project that used traditional approaches and ran into insurmountable problems that might be amenable to complex systems approaches​
If submissions are accepted authors will be asked to give a 15 minute presentation on their papers or abstracts. Furthermore, if requested by the authors, accepted papers and abstracts can undergo an additional review process and be published in a special issue of the Journal on Policy and Complex Systems. Both full papers and short abstracts should be submitted through EasyChair. Please make sure to register for the conference on our website in addition to the paper submission.​
​Potential topics for submissions include, but are not limited to:
Access to Education; Access to Healthcare; Civil Society; Conflict Resolution & Cooperation; Coupled Human-Natural Systems; Diffusion of Innovations; Digital Divide; Digital Humanities; Dynamic Human Behavior; Dynamics of Trust & Reputation; Ecological Footprint; Economic Development; Economic Mobility; Evolutionary Dynamics; Group Decisions & Collective Behaviors; Justice and Fairness; Model Replication; Poverty; Public Policy; Retirement; Simulation Software & Computational Frameworks; Smart Cities; Socio-Economic & Financial Networks; Social Media; Social Norms; Social Networks; Sustainability; Verification & Validation​
The submission deadline is February 15, 2020.
​​
​WORKSHOPS
The organizers will consider the possibility of 1-2 short workshops (1-2 hours each) on specific topics. These can be short workshops that take place during the conference or long half-day workshops that can take place before or after the conference. If you are interested in organizing a workshop, please e-mail your contact information, workshop title, and workshop description to info@caps-conference.org.​​
IMPORTANT DEADLINES
Paper submission: February 15, 2020
Workshop proposal: February 15, 2020
Notification to authors: March 30, 2020
Early registration: April 15, 2020​​
​
ORGANIZERS
Mirsad Hadzikadic (Chair), UNC Charlotte, Director Complex Systems Institute
Ted Carmichael, TutorGen, Senior Research Scientist
Elissa Cohen, American University, PhD Student
Brian Goode, Virginia Tech, Research Scientist
Liz Johnson, Journal on Policy & Complex Systems, Managing Editor
Bianica Pires, MITRE, Lead Modeling & Simulation Engineer
D. Cale Reeves, University of Texas, Austin, PhD Student
Bernard Ricca, St. John Fisher College, Associate Professor
Martin Schmidt, International Development Consultant​
​SPONSORS
Journal for Policy and Complex Systems
The Computational Social Science Society of the Americas​
​
FOR MORE INFORMATION
Conference website: https://www.caps-conference.org
Contact us: info@caps-conference.org