2nd International Conference on Complexity And Policy Studies
For the schedule of the CAPS 2018 Conference, please click here.
The CAPS 2018 Call for Papers is reproduced below.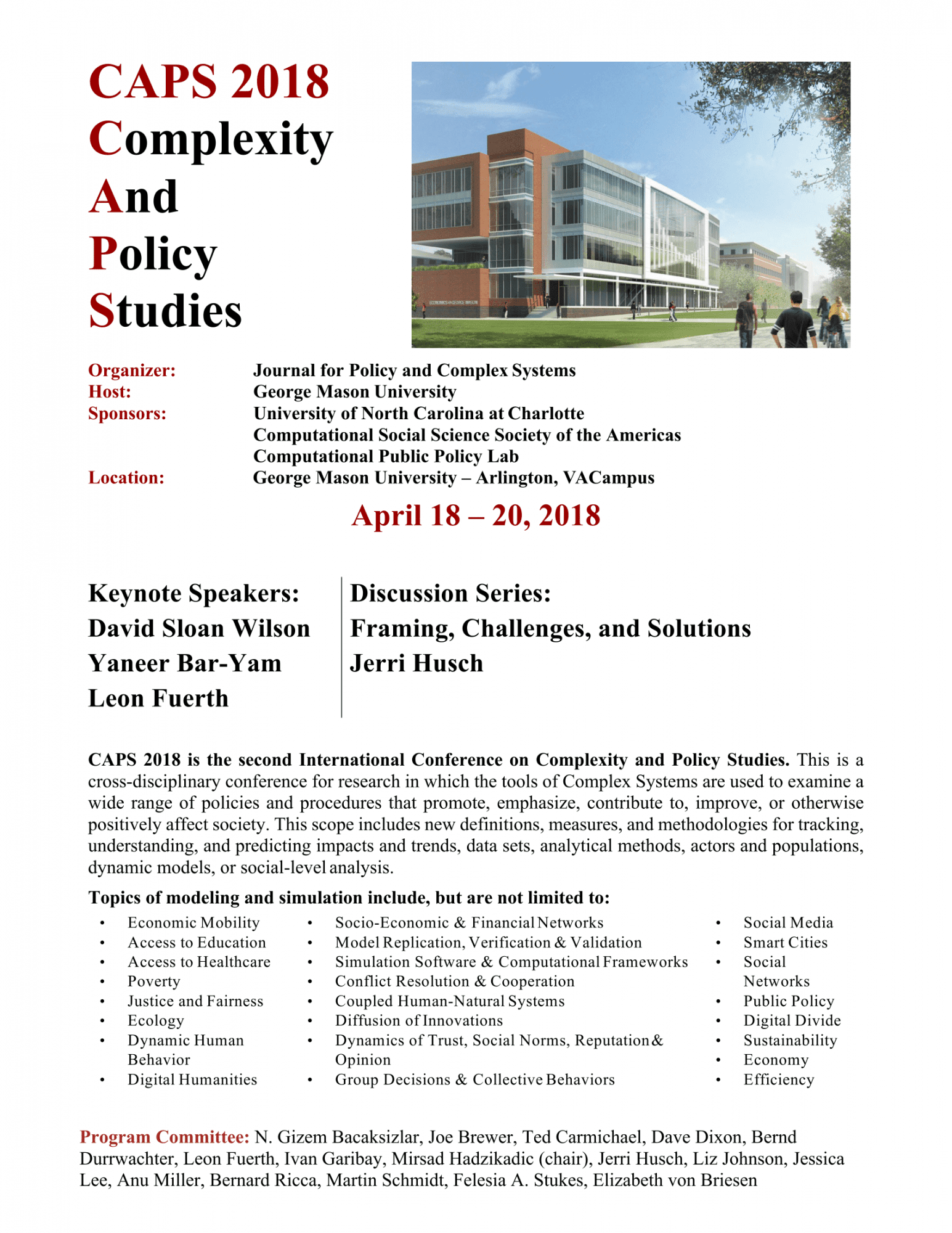 ABOUT THE CONFERENCE
We are currently witnessing the collapse of trust in expert knowledge (a crisis of epistemology) as the world goes through a cascade of crises. In more general terms, there seems to be a "mismatch" between all drivers of exponential change in the world and the decision-making structures of most institutions that are ill-equipped to manage disruptive emergent processes. This has a direct consequence on the lives of individuals and their communities.
Complexity and Policy Studies (CAPS) offers a forum for addressing these issues by asking pertinent questions: How can we use our emerging understanding of complexity, human action, and dynamic social systems to the benefit of human societies and populations? How can knowing more about the complexity that shapes our personal relations, collective action, and the sustainability of social institutions lead to healthier lives and increased well-being?
For humans to adapt to our ever-evolving world, we need to recognize that a complex social systems perspective is at the foundation of the way our lives "work," and that our lives are defined by the following assumptions:
Social systems are complex systems
Complex human social systems are embedded in their environment‐‐‐ defined by place and time (culture)
Change in social systems is at the interaction and simultaneous interplay of multiple variables that continually occur in place and time
The interaction and interplay of multiple variables is defined as a "relationship." Relationships between variables in complex systems are non‐linear
Direct causality is not essential to understand social change as effects are not proportional
Non‐apparent and "invisible" elements, such as beliefs and values, influence relationships in a complex system and affect goal achievement
CAPS 2018 will explore key assumptions about reality that need to be redefined as complex systems thinking shifts from causality between discrete variables to an emphasis on "linkages" and the dynamic interplay and 'relationships' between variables. This interplay of variables and the relationships between them form trends and patterns that become the area of focus. CAPS 2018 will address the practical implications of multi‐dimensional complexity through discussions of multi‐method design, how to work with complex and diverse data sets and the emergence of complexity research and policy.